2021 Hep B United/TB Elimination Alliance Virtual Summit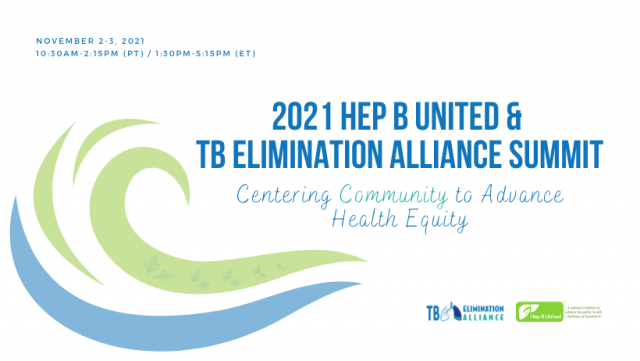 The first joint Hep B United and the Tuberculosis (TB) Elimination Alliance virtual summit will occur from November 2-3, 2021 from 7:30am - 11:15am HT / 10:30am - 2:15pm PT / 1:30pm - 5:15pm ET each day. We hope you will join us to engage with leaders and partners from across the nation to discuss and collaborate on both hepatitis B and TB elimination efforts. Please register here no later than Friday, October 29, 2021.
The theme of this year's summit is Centering Community to Advance Health Equity. The event will include exciting sessions on community engagement and education strategies, data, parallel strategies for screening and testing, impacts of COVID-19, lived experiences, and advocacy efforts for both hepatitis B and TB elimination. Opportunities for networking and engaging with poster presenters and exhibitor booths will also be available.