Virtual Hep B United (HBU) / Tuberculosis Elimination Alliance (TEA) Mini Summit 2022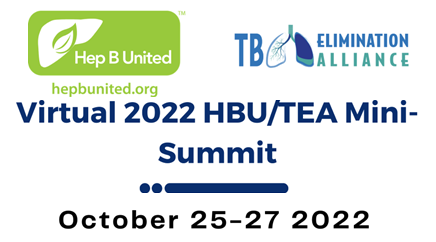 On behalf of Hep B United (HBU) and the Tuberculosis (TB) Elimination Alliance (TEA), we would like to extend our heartfelt gratitude to the HBU/TEA Steering Committee, Summit Planning Committee, all our wonderful speakers, panelists and moderators for making the Summit a huge success. A very special thank you to all our attendees for their participation, engagement and feedback on the Summit.
Summit Recordings are available now. Please find them here!
Access the Summit Landing Page here!
Sounds of the Summit Playlist here!