Reports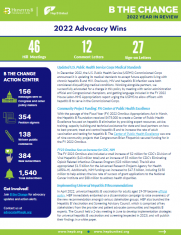 Hep B Advocacy End of Year Report (2022)
Learn about our 2022 advocacy wins, including events and activities on Capitol Hill and grassroots advocacy at the federal and state level.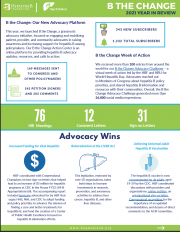 Hep B Advocacy End of Year Report (2021)
Learn about our 2021 advocacy wins, including events and activities on Capitol Hill, the annual Week of Action, and hep B state advocates in action around the country.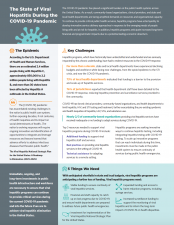 The State of Viral Hepatitis During the COVID-19 Pandemic (2021)
This infographic reports on data from a survey Hep B United launched in partnership with national viral hepatitis organizations of the impact of the COVID-19 Pandemic on hepatitis prevention and care.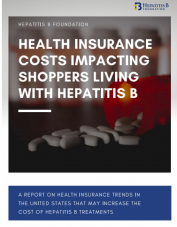 Health Insurance Costs Impacting Shoppers Living with Hepatitis B (2020)
This report is a resource to help people living with hepatitis B make informed decisions when choosing a health insurance plan. It can also be shared with policymakers to inform them of potentially discriminatory benefit plan designs in various states.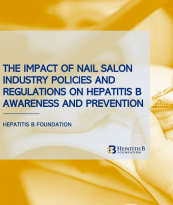 The Impact of Nail Salon Industry Policies and Regulations on Hepatitis B Awareness and Prevention (May 2019)
Hepatitis B Foundation report to further understand the nail salon industry landscape through analyzing state policies that govern nail salons and identify strategies to support increased hepatitis B education, awareness, and prevention.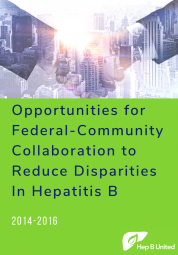 Opportunities for Federal-Community Collaboration to Reduce Disparities in Hepatitis B: 2014-2016
HBU report highlighting recommendations on how local coalitions and partners can work with federal agencies to help combat the silent epidemic of hepatitis B and further the goals identified in the HHS Action Plan for the Prevention, Care, & Treatment of Viral Hepatitis, Updated 2014-2016. Read HBU's press release for more information.