Events and Trainings
Advocacy Day 2018
July 24, 2018: Nearly 70 advocates - including hepatitis B patients, family members, and #justB storytellers - representing 24 states came to Washington, DC to participate in the annual Hep B United Advocacy Day. Advocates split into groups and went to Capitol Hill to meet with a total of more than 60 Congressional offices in just under four hours! Photos and more info >>
---
Webinar: Telling Your Story to Lawmakers
June 28, 2018: Featured speaker, Rachna Choudhry, from POPVOX, shares strategies and tips for meeting with Members of Congress and staff and keeping them engaged on these important issues. Whether you're in Washington, DC or across the country, there are multiple ways you can connect directly with your legislators; share local data, resources, and personal stories to influence their policymaking; and help build Congressional champions for the hepatitis B community!
Presentation Slides:
Hep B Advocacy 101: Telling Your Story to Lawmakers; Rachna Choudhry and Rhea Racho
---
Webinar: Understanding Federal Appropriations
March 29, 2018: This session provides an introduction to the federal budget and appropriations process, an overview of appropriations advocacy strategies, and updates on coalition-based efforts to advocate for increased funding and support for viral hepatitis programs in the United States.
Presentation Slides:
Hepatitis Advocacy: Understanding Federal Appropriations; Emily McCloskey and Frank Hood
---
Advocacy Day 2017
July 26, 2017: Hep B United partners met with more than 35 Congressional offices in Washington, DC to discuss the need for increased federal resources to address and eliminate hepatitis B. A Congressional reception was also held that evening to introduce the Hepatitis B Foundation's storytelling campaign, #justB. For more information, check out the 2017 Hep B United Summit and Advocacy Day Storify, blog, report, pictochart, and presentations!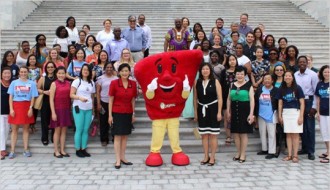 ---
Congressional Briefing: Conquering Hepatitis B Now! A Roadmap for a Cure
May 24, 2017: The Hepatitis B Foundation launched its national Hep B Cure Campaign which features a consensus research agenda that outlines top scientists' priority research recommendations for hepatitis B and liver cancer. The "Roadmap for a Cure" research agenda was highlighted at a Congressional briefing hosted by the Foundation in collaboration with the Congressional Hepatitis Caucus, Congressional Asian Pacific American Caucus, Senator Mazie K. Hirono, the National Viral Hepatitis Roundtable, and the Association of Asian Pacific Community Health Organizations, and Hep B United.